EVERY CHILD DESERVES A BETTER FUTURE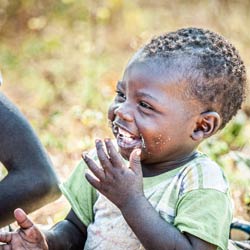 According to the latest report by UNESCO, 180 million more girls have enrolled in primary and secondary school since 1995, and girls' learning outcomes have improved.
Did you know:
When girls attend a secondary school, it is possible to reduce infant mortality and thousands of others escape stunted growth

When girls attend school, the prevalence of child marriage is reduced

When girls are educated, they are able to make better-informed choices and create better opportunities for themselves
Sadly, the Coronavirus pandemic has destroyed much of the progress made and threatens to be a hindrance for better educational outcomes in years to come as the after-effects of the virus are continuously felt by the poorest of the poor.
In particular, the pandemic has created major obstacles for the safe return of children to educational facilities, with nearly 90% of the world's student population being impacted. Sadly, the return to schooling in some countries has been marred by lower than expected numbers and many have not returned at all. In poorer, more rural areas, children do not have access to digital learning which places them at a further disadvantage. All of this threatens to reverse the progress made in education in recent years and will be felt for years to come. World Children's Day calls on us to reimagine the future, invest in education and provide every child with access to learning.
At JAM, our school feeding programmes, which also contributed to improved educational outcomes, have sadly been halted in the majority of our operating countries due to COVID-19 restrictions. To counter this, our teams have provided Take-Home rations while continuing the upkeep of school nutrition gardens – all aimed at providing nutritional support to children and their families. Wherever possible, we have also ensured that clean water sources are available for children and their families, to protect them from diseases. Vital malnutrition support, both in terms of monitoring and treatment, as well as vaccination campaigns, has provided young children with access to basic healthcare services.
In order to provide the children of today with a better tomorrow, we must commit to not only improving their standard of living but ensuring sustainable solutions that will equip them to actually achieve a brighter future.
We stand united with the global community and recommit ourselves to this.
Six-Point Plan, to protect our children:
1. Ensure all children learn, including by closing the digital divide.
2. Guarantee access to health and nutrition services and make vaccines affordable and available to every child.
3. Support and protect the mental health of children and young people and bring an end to abuse, gender-based violence, and neglect in childhood.
4. Increase access to clean water, sanitation, and hygiene and address environmental degradation and climate change.
5. Reverse the rise in child poverty and ensure an inclusive recovery for all.
6. Redouble efforts to protect and support children and their families living through conflict, disaster, and displacement.
Join us this World Children's Day, and make the world a better place for each and every child we can reach.

Ann
Ann Pretorius
Global CEO and Co-founder
JAM international